Brampton Denture Clinic
13 Queen St. E.
Brampton, ON, L6W 2A7
Phone: 905-459-7442
More Information

Brampton Readers' Award 2012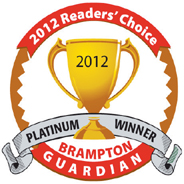 Etobicoke Readers' Choice Award 2012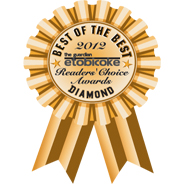 The Mississaga News Award Winner 2012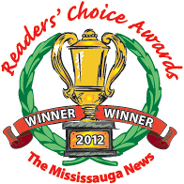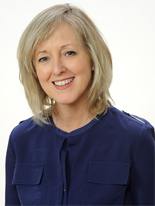 Abigail Feige, DD
Abigail Feige comes from a family of denturists, and after spending many years helping her father in the lab, decided to follow in his foot steps and become a denturist.
Abigail attended George Brown College and received her license in 1983. Upon graduating she immediately joined her father's practice as a denturist.
She has been a denturist in good standing for 28 years, and is very proud of the service she provides to her patients. Abigail is not only caring she is very sensitive to her patients needs. She is known and loved for her ability to make people feel comfortable and at ease just by being around her. In her spare time Abigail loves being with friends and family and also enjoys teaching yoga.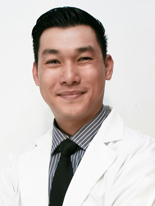 Quoc Nguyen BSc., DD
Quoc has always known that he wanted to go into a profession where he could help people. After careful contemplation and evaluation, he decided that the field that best fit his ideal was denturism. So, after finishing a Bachelor of Science in Human Biology at the University of Toronto (2011), Quoc went on to complete - with honors - a Denturism degree at George Brown College (2014).
During his studies, Quoc began gaining experience working with patients as a research assistant in pain studies at the Sunnybrook Health Science Centre, and we are glad to have him here, putting his experience to good use!
When Quoc isn't at our clinic helping people regain their smiles, he enjoys being out in nature, cooking and playing volleyball.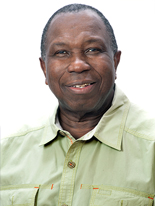 Alphonso Morgan (Tony), DT
Tony began his dental career in Jamaica, working in his brother's dental lab; where Tony specialized in dentures. When Tony came to Canada in March of 1970, he was offered a position working as a dental technician with Arnold and has remained with the family ever since.
Tony has remained a loyal and valuable member of the Brampton Denture Clinic, performing his duties quickly and with great care and precision. Whether it be a reline, repair, or any other lab procedure, we can count on him!
Over the years Tony has taken many courses to improve his skills and keep up with the latest technology, including the Dentsply set-up course, BPS (Biofunctional Prosthetic System) course, Ivocap processing system, and Can-DEC advanced set up technique.
Tony has become a part of the family and in recognition of his 40 years of service; both him and his wife Leiteth were sent on a holiday to Hawaii in May of 2010. Tony plays a very integral role in the office and we are grateful to have him as part of the team.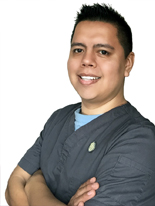 Roberto Mestizo, RDH
We are happy to introduce Roberto. Roberto immigrated to Canada in 2007 and he graduated from the Toronto College of Dental Hygiene and Auxiliaries in 2015. He brings with him a strong passion and background in the dental field having studied and practiced dentistry in Mexico before coming to Canada. Roberto is fluent in Spanish and English and has dedicated his practice to educate and create awareness about the importance of dental hygiene procedures.
He feels a special calling to support the Latino community in the Toronto area and many appreciate his ability to converse fluently in English and Spanish. It's obvious that Roberto loves his work and many patients comment on his ability to provide an atmosphere of ease and comfort. For patients that may require "extra help" relaxing with dental cleaning procedures this is a huge asset. His approach works well for all ages from kids to adults to the elderly.
In his spare time Roberto enjoys displaying his vast musical talents playing with the Los Gallos Mariachi Band and spending time with his wife and children. His easy going nature and happy demeanor is a wonderful addition to our family clinic.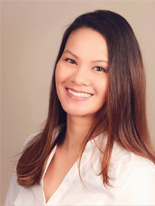 Rachel Roxas, RDH
Rachel is a registered dental hygienist having completed her dental hygiene studies with honors at George Brown College in 2004. She's had the opportunity to integrate her educational background to serve her hometown community of Brampton and Mississauga with outstanding dental hygiene care.
Clients often remark on her gentleness and her extraordinary attention to detail. With over 13 years of clinical experience; Rachel emphasizes a strong focus on preventative treatment to help clients achieve optimal long-term dental health.
To ensure the highest standards of client care; Rachel keeps up-to-date with continuing professional development courses and pursues training in the latest dental hygiene procedures and technologies. She is a proud member of the College of Dental Hygienists of Ontario, Canadian Dental Hygienists Association and Ontario Dental Hygienist Association.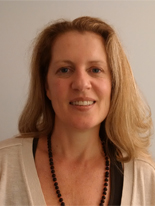 Alanna Williams, Office Adminstrator
Alanna brings management experience from a variety of industries ranging from hospitality to technology and retail. Her years spent in Corporate Communications required working in a high- paced, deadline-driven team environment addressing a wide range of clientele's needs with a high professional standard. It required being a quick study in a constantly morphing environment thus she developed a multi-disciplined skillset.
Alanna's familiarity with communication and management roles further developed into a life-long passion and interest in health and well-being after being diagnosed with a serious illness. Her philosophy today incorporates a whole minded approach of balancing mind, body, spirit. Her passion is serving others on their journey of health and well-being.
Today she integrates her people management skills and incorporates team building and leadership. Alanna is happy to be involved in a community minded health and wellness environment that embraces her values of creating a healing world for the future.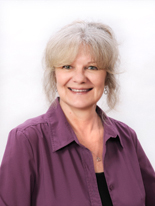 Cindy Arnold, Front Receptionist
Cindy Arnold joined our team in 2017 as a dental receptionist. Cindy comes from an association background and specialized in administration work. She is very much enjoying her new role as receptionist and looks forward to working with the patients.
As a denture wearer herself she understands much of what patients will go through in getting their new dentures. Outside of her professional activities, she enjoys painting, reading, movies, nature walks and spending time with her family and friends.